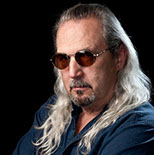 Stephen Paternite (American, born: 1952) received his initial art training in photography and sculpture from Cooper School of Art, Cleveland, Ohio in the early 1970s
 In 1974, he was the recipient of an "Artists Fellowship Award" from the National Endowment for the Arts, Washington, D. C.
In 1978, he began experimenting with black-and-white & color infrared photography leading to a limited edition portfolio of black-and-white infrared photographs entitled "The Infrared Portfolio" with an introduction by the former Whitney Museum of American Art and George Eastman House photography curator Robert M. Doty. This was followed in 1981 by the limited edition black-and-white infrared portfolio entitled "Below the Visible Spectrum" with an introduction by Cleveland Museum of Art photography department head, Nicholas Hlobeczy.
In 1982, he co-edited and published the "American Infrared Survey" A Celebration of Infrared Photography.  This (out-of-print) book explored artistic trends in black-and-white & color infrared photography, and also resulted in a worldwide traveling exhibition of original photographs from the book.
In 1988, he was the recipient of an "Individual Artists Fellowship" from the Ohio Arts Council, Columbus, Ohio.
In 1994, he co-produced a VHS video entitled "Creature-nites of Ohio". This bizarrely humorous docu-drama highlighted the life and times of ten species of hybrid animals created by Paternite during his Ohio Arts Council (sculpture) Fellowship.
In 2003, he self-produced a DVD entitled "Too Gross for Discovery". This DVD is the original (rough-cut) episode of "Dirty Jobs" hosted by Mike Rowe. The unaired episode from 2003, which featured the roadkill artwork of Paternite, was ultimately rejected by the Discovery Channel for being "Too gross" for broadcast.
In 2010, Paternite rekindled his passion for infrared photography and is now working exclusively with digital infrared photography. Paternite recently published a catalog of his digital infrared photographs entitled "Stephen Paternite ~ Digital Infrared Photographs 2010-2012" which is available for purchase on this website
Since he began his professional art career in 1973, Paternite has exhibited artwork in over 185 group exhibitions, and has mounted 21 solo exhibitions throughout the world. With inclusion in both The Forward Thinking Museum's and British Royal Photographic Society's infrared photography centennial exhibits in 2010 -- alongside Weegee, Elliot Landy and others  -- Paternite has been referred to as a "master" and "pioneer" of infrared fine art photography. His color infrared photograph "Barn, Hale Homestead, Bath, Ohio, 1988" was the image selected for The Forward Thinking Museum's "Infrared Centennial" exhibition advertising campaign.
Stephen can be reached via e-mail at: